This is a phytosanitary regulation drawn up by the International Plant Protection Convention. The regulation amounts to describing the treatment of wood used in the international transportation of goods.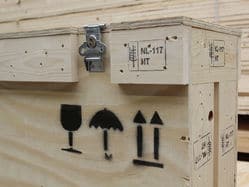 Purpose of ISPM 15
The regulation aims to ensure that living organisms such as parasites do not occur in the wood. This prevents damage to the biostructure of the importing country. The regulation applies mainly to export crates and pallets. In order to transport wooden packaging worldwide without problems, the wood to be used must therefore comply with the ISPM 15 standard.
ISPM 15 Certified
All wooden export packaging produced by Bode Packaging complies with the ISPM 15 standard. Therefore, our packaging can be transported worldwide without any problems. We are a member of the Wood Packaging Marking Foundation and our registration number is 117.
On the SMHV website you will find information on the standards per country and other additional information.
Security
We are aware of the various country-specific import requirements and the corresponding regulations.
We apply these regulations directly during the production of your order, giving you the assurance that your packaged materials will reach their final destination without problems.